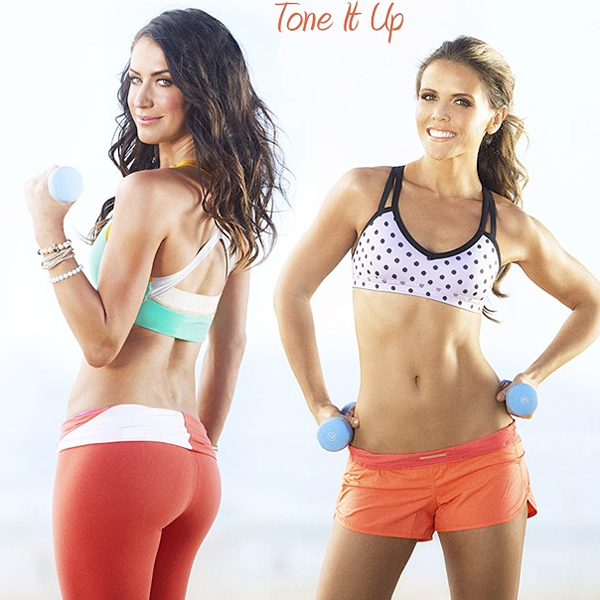 Whether you're in college, one year post undergrad (like me), or a working parent, finding time to workout can be difficult. While it seems like the best option out there, choosing to work out at a gym actually has some disadvantages; the high membership fees, large crowds, and added travel time after work can quickly turn into excuses for not getting a sweat in. I have found that this can all be avoided by simply working out at home! You may seem wary of idea at first (less equipment, no instructors, etc.), but there are so many programs out there right now that make it possible to not just work out at home, but do so quickly, safely, and effectively. Here are my top 5 online workouts to try at home.
Kayla Itsines's Bikini Body Guide
Perhaps I am a bit biased because I have been using her guides for over a year now, but Kayla's Bikini Body Guide or BBG has become [one of] the most popular workout and Instagram movements in the world. When first starting her workouts you are instantly embraced by the thousands of women all across the planet and encouraged to share your progress photos as you go. Her 12 week guides can be purchased in a PDF format (which I use), as well as on her new app, Sweat With Kayla. I personally prefer the PDF because it's a flat rate and you have access to the workouts for life as opposed to a monthly fee on the app, but find what works for you! All of her workouts focus on building lean muscle mass by using high rep, low weight interval training. Because of this, a majority of her exercises are body weight or require light dumbbells, and are all under 30 minutes long. While a few of her exercises require benches or medicine balls, it is incredibly easy to make this workout work for you at home. I use kitchen chairs for step ups, and bought dumbbells at Walmart to use. Kayla also offers a meal plan to help you make healthy and clean meal choices.
Cost: $19.99/ Month for the app, $55.00 for the PDF
Tone it Up
Founded by trainers Katrina and Karena, Tone It Up is an online community where women of all ages and sizes can come together to get in shape. With new content being posted each week, these two incorporate a mix of toning, yoga and stretching into their workouts to help you lose weight and get the bikini body you've always wanted. Their workouts are free and posted on their site and on their YouTube channel, but you can also gain access to exclusive workouts and nutrition plans by becoming a TIU member.
Cost: Free
Yoga With Adriene
About 5 months ago, I decided that I wanted to become more serious about yoga and incorporate more of it into my routine, but wasn't willing to fork over the money my local classes and instructors were asking for. That's when I found Adriene, whose YouTube channel "Yoga With Adriene" caters to yogi's of all levels. No matter if you're just beginning yoga or starting back up again, Adriene has a video series or tutorial for you. They are all around a half hour long, and are an excellent way to get a workout in or learn a new and challenging pose. She is also hilarious, and by the end of my first series with her I felt like she was one of my friends (no joke).
Cost: Free
BeFiT
Another YouTube based fitness account, BeFit posts new workouts every week day and features trainers like Jillian Michaels, Denise Austin and Jane Fonda. With thousands of videos already available to you, its easy to find one that fits your needs. If you don't like having to choose a workout every day, you can simply let their "BeFit Systems" be your guide.
Cost: Free
Way of Gray
Sophie Gray is not only adorable, but she is a certified holistic nutritionist and personal trainer who knows how to whip your butt into shape. She's created a guide called "Way of Gray" that requires no weights, and is available anywhere on any device. Her workouts are on video, and range between 30-50 minutes long. You can also follow Sophie on her Instagram page, where she posts inspiring shots like this one to keep you motivated as you workout.
Cost: $7.50 per month, or $25.oo for 3 months.